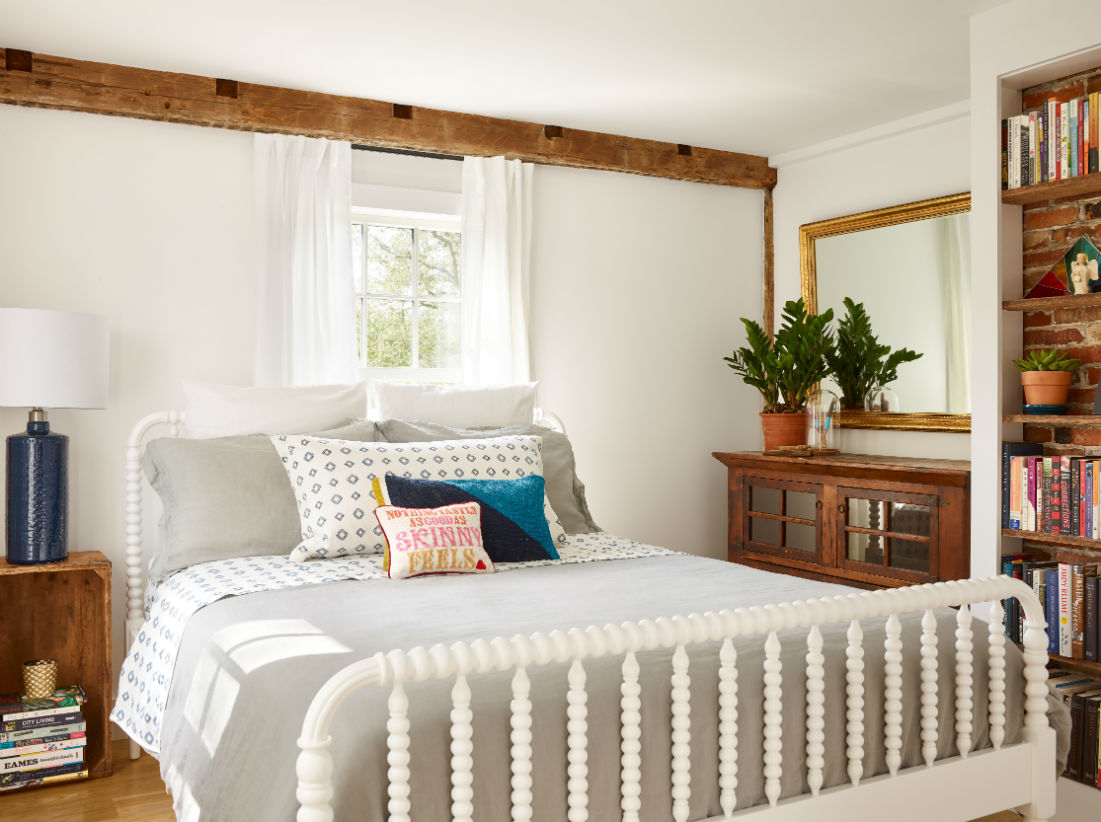 "We are finally doing this, we are going to finish the (insert room of choice)! How much is it going to cost?!"
You have probably been thinking and planning and dreaming about this "new room" of yours for quite some time.
Spending hours scrolling through Pinterest, researching interior designers, and checking out their portfolio while watching a million and one HGTV shows (sorry, but no, you cannot design an entire house in 3 days for $4,000!).
This research you have been conducting has helped you figure out more of what you like and don't like. How you want your rooms to feel (even if you don't realize that is what you are defining). What your design style is.
All extremely important details for the design brief and communicating with your chosen designer to help set expectations.
But, how much should you expect to spend?
This is where the intersection of what you have to spend meets what it actually costs!
Just as with buying a car, there are different tiers of furnishings that span quality and design (big box retail furniture to bespoke, one-of-a-kind heirloom pieces).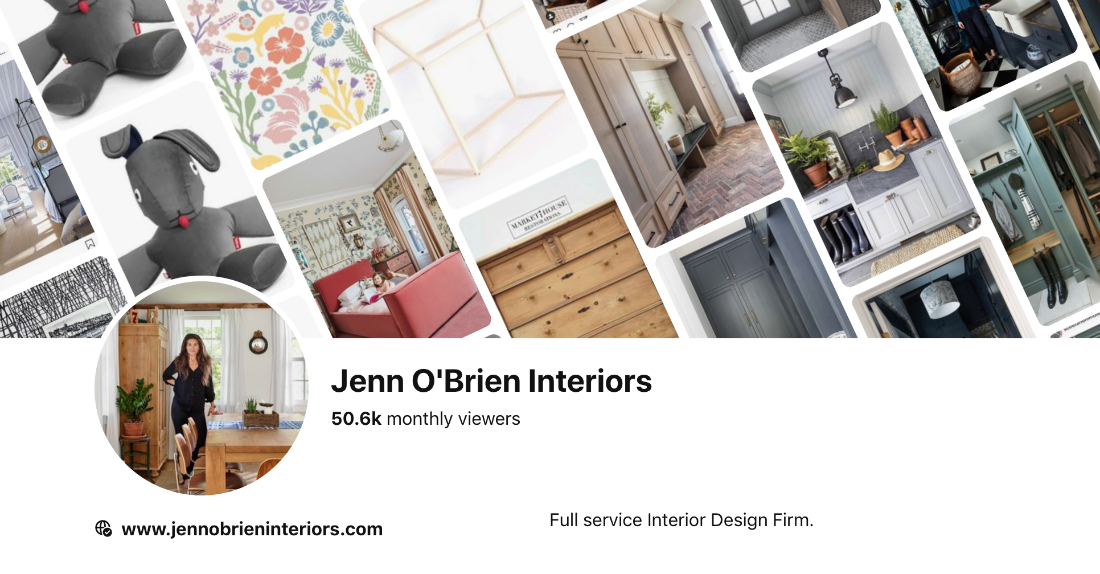 Before you approach a designer, it is best to have done a bit of homework to create a realistic budget for your project.
This can be done in 3 steps:
1. Make a list of the items you need/want to purchase (this act alone shows just how many pieces you have in the room… your living room has more than just a sofa and 2 chairs!).
2. Use the following cost guide to determine which pricing tier you are financially comfortable with, and add up how much the items from your need/want list will cost.
3. Evaluate that final number and apply reality to it… do you have that much to spend? Do you actually have a little more to stretch the scope?
Warning: don't be surprised if you suffer from "sticker shock" when you see the final number… this is totally understandable!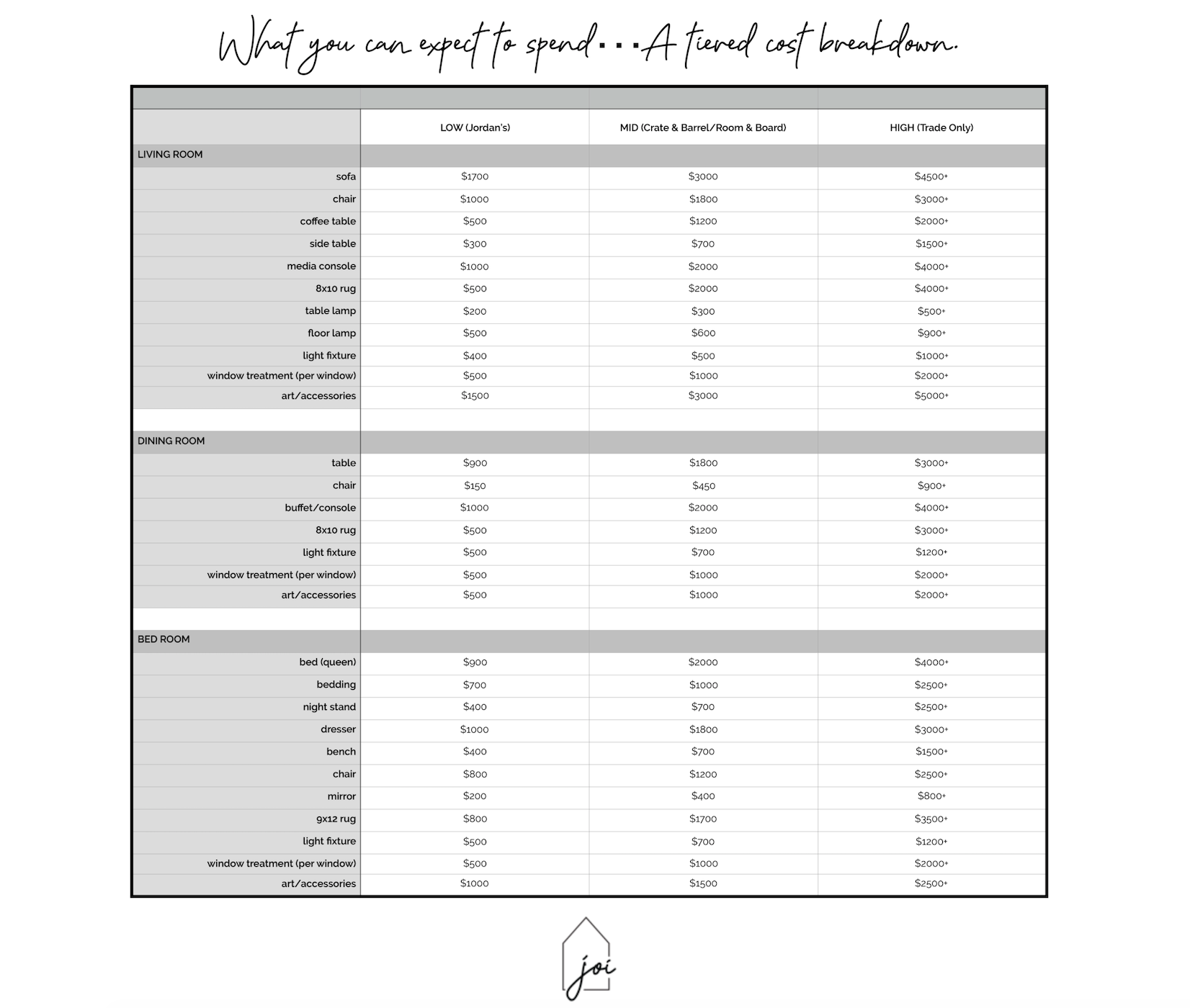 The bottom line number quickly adds up, but remember, you most likely have never fully furnished a room, from scratch, all at once.
If you took a minute to tally up the cost of all the items that live in your space right now, well… you get the point!
Please note that the costs noted are "per item." If you think you will want 2 chairs, then multiply that number by 2.
Also, yes, you can get a Crate and Barrel table for $500 and could also spend up to $2,700… this guide states more of the "sweet spot" pricing and provides a good baseline to work from.  
Other things to consider when working through this "how much am I spending" fun…
This "final estimate" number will not include your designer's fee, professional installation, tax or shipping.
In Massachusetts, tax is 6.25% on all your pieces. Also, there will be a fee for shipping (I charge a flat 12.5% of the overall purchase) so take those numbers into consideration when determining the feasibility of your budget.
Remember, the more informed you are as a client, the smoother (and more enjoyable) this process with be for everyone!
Before I sign off, I would like to offer you one more thing to consider…
The resale value of your home. Are you planning on moving anytime soon? Is this your "forever home?"
Think about the investment that you will potentially be making into your home and whether it makes sense or not (either emotionally or fiscally…that's your call!).
Good luck and happy number crunching!
Ready for a home filled with yes? Let's chat.